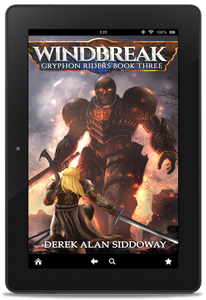 "Masterfully written."
"Seriously good story telling."
"Absolutely loved it! Amazing conclusion to the trilogy, and loved how it ended. Highly recommend this series!"
"This book was such an amazing finish."
From the fires of war, a queen must rise. 

Against all odds, Eva and her friends are alive. And they've returned home with the only chance the Windsworn have of defeating the Smelterborn.

Hope, however, will prove to be short-lived and bittersweet.

An army of iron golems marches west and nothing can stop them. To survive the coming war, the gryphon riders must stand with old enemies against the ancient darkness. As the fighting begins, a small band makes their way east on a desperate quest: to destroy the source of the Smelterborn's power once and for all. Chances are, none of them will make it out alive.

Eva and Fury will be tested like never before. Heroes will fall. Kingdoms will shatter. The price of victory has never been higher.

Will Eva succeed in driving back the darkness or will everything she loves be crushed beneath the iron fist of the Smelterborn?

Don't miss the epic conclusion of the Gryphon Riders Trilogy!