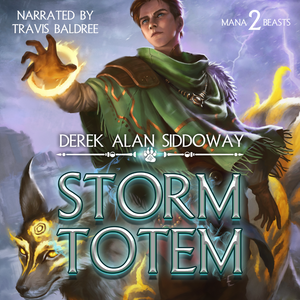 Narrator: Travis Baldree
Length: 9 hours 40 minutes

Kellen and his Mana Beast, Vex, have taken their first steps to greater power. Unfortunately, in Oras, there's no rest for the weak.

Across the land, the power of the great totems is failing. Fanatical cultists are on the warpath for the first time in a thousand years, spreading chaos on a crusade of vengeance.

Seeking answers and a place to hone their mastery of mana, Kellen and Vex face their greatest trial yet: the Storm Totem.

Danger lurks at every step inside the colossal structure. Climbing higher and higher in search of a sacred artifact, they'll discover forgotten lore, powerful new abilities, and even deadlier foes.

A storm is coming. And Kellen and Vex are right in its path.