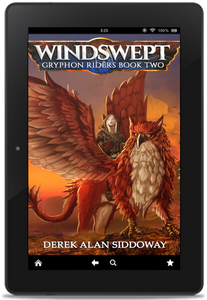 "I cannot tell you enough how much I am loving this series.​ I would highly recommend picking [The Gryphon Riders Trilogy] up." - Lola

"My opinion continues through book two that this is some of the best reading I've done in a long time." - Steve
A long-forgotten champion. An ancient darkness.

Now a full-fledged gryphon rider, Eva's come a long way from the timid girl she used to be.

After proving herself to the Windsworn, forging a bond with her gryphon, Fury, and discovering the truth about her parentage, Eva thought life would get easier. Instead, war is blossoming on the eastern frontier. And raiders on giant sabercats might only be a shadow of worse things to come.

If that weren't enough, a captured enemy reveals a startling truth: Eva's long-lost father is still alive.

Against direct orders, Eva and her friends desert the Windsworn, risking everything to bring her father home. Eva and Fury have come a long way in a short time, but beyond the mountains, danger lurks at every turn. Will Eva sacrifice everything she holds dear for a man she's never met?