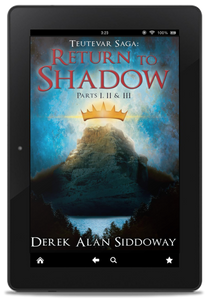 As shadows lengthen and darkness falls across Peldrin, everyone has a score to settle. 

Headstrong and impatient, the young, exiled lord, Revan Teutevar, has his heart set on returning to Athelon. Between him and his ruined homeland, however, lies Vhaleons: a city ruled by corruption and greed. Chasing the threads of a dangerous conspiracy, Revan and his friends soon find themselves entrapped in a game of power and deceit. One false move and the lives of the three drifters are forfeit.

Captain Nikoma is a young woman desperate to prove her worth in a man's world. She's a loner, an outsider even amongst her fellow Simarru riders no matter how well she swings a sword. But war with the Imperium League is at hand, and with it, the chance to step out of her father's shadow…if she can stay alive long enough to change her stars. 

With war looming, the west has forgotten about Arund. Even so, the one-time Hero of the Republic and would-be high king hasn't been idle. East of the Heimwall, he's rebuilding his capital and amassing a motley horde to stake his claim in the growing chaos. If he can hold them all together — fierce Jotun, barbaric Periwaneth and treacherous Emorans — the White Knight could very well make good on his vow to rule all of Peldrin.