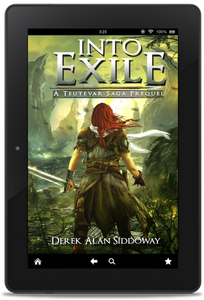 Widowed. Hunted. Exiled. From the ashes of destruction, a saga begins.

When her country is conquered and her lord husband slain by his best friend, Guinevere, Lady of Athel, has only one thing left to live for: her young son Revan. Forsaking vengeance to honor her husband's last wish, Guinevere flees with Revan — the last heir of the Teutevar line. Exile, however, will not come easy. Pursued by ruthless invaders and a wilderness full of bloodthirsty savages, Guinevere's only allies are a loyal spearmaiden and a deranged mountain man. The Lady of Athel may not fear death, but should she fail, Athel's last hope falls with her.

Into Exile is an introductory prequel that takes place before the events of Out of Exile in the world of Teutevar Saga. Fans of Joe Abercrombie's Red Country and Miles Cameron's Traitor Son Cycle will enjoy the Teutevar Saga and its unique blend of traditional medieval fantasy in a gritty, western-inspired landscape.